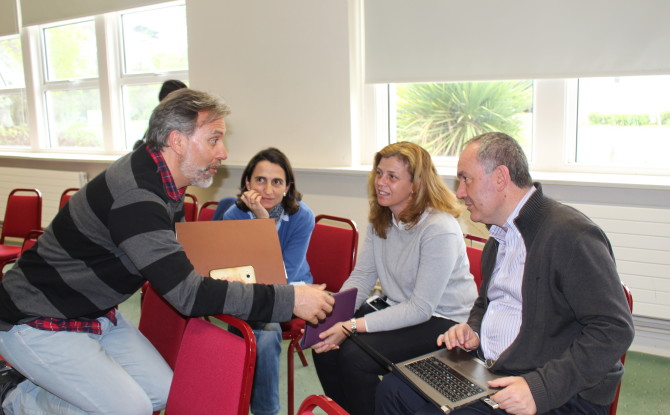 Educating Refugee Students in Ireland
Jose Ignacio Garcia SJ,Director JRS Europe,on laptop,engages with Spanish representatives
People are on the move worldwide. There is an increasing number of refugee and migrant students in the Irish classroom and is evident in the diverse make up of students within classrooms in many countries. At a seminar held in Dublin, Ireland, Dr. Krizan Vekic* gave participants an international perspective on the distribution of migrant and refugee students across schools in Europe, Australia, and the United States.
Best education practice explored
Mr Gerry Cullen, past pupil of Jesuit Belvedere College, Dublin, now principal of a multi-ethnic DEIS girls' school in Dublin spoke of the positive impact the enrolment migrant and refugee students had on his school over the last 15 years.
He explained that the school's approach to care, the willingness of staff to learn from best practice and the school's disposition to always focus on meeting the educational and developmental needs of their students, meant that the school has gone from strength to strength in terms of raising student numbers, their expectations and their academic achievement. Sixty per cent of the school's young women graduates now go on to third level to study an array of courses; medicine, law, engineering, education and technical disciplines.
Educational experiences of migrants and refugee students
The seminar, organised by the Jesuit Education Desk, Ireland and Jesuit European Community for Primary and Secondary Education (JECSE), in collaboration with JRS Europe, brought together Irish and European delegates from both the Education and Social sectors. It explored educating refugee students in the Irish classroom and elsewhere.
It afforded participants the opportunity to deepen their understanding of the educational experiences of migrants and refugee students; consider approaches required to foster greater access for migrants and refugees to Jesuit schools and cultivate more effective integration in our schools.
It created a unique space where participants could share and reflect on experiences of working with such children and young people.
Key Takeaway: collaboration is key
A disconnect between the Jesuit Social and Education sectors was identified by Jose Ignacio Garcia SJ during his presentation. At the seminar, the diverse sharing of information on and experience of the social and educational requirements of young refugees and migrants emphasised the overlapping concerns and areas of work within the two. The necessity for those of us engaged in and passionate about social justice to collaborate and bring our diverse skills to the issues was clear.
"Be it in Ireland or elsewhere in Europe, a key takeaway from the seminar for myself " says participant Carol Maxwell," is that strategic collaboration between the sectors could assist these young students in ensuring they had access to our Jesuit schools and were effectively integrated into whichever country they eventually settle."
Eoin Carroll(JCFJ),Krizan Vekic and Grainne Delaney(Crescent Comprehensive School,Limerick)
*Co-ordinator of the Education for Justice and Reconciliation Programme, Jesuit Schools, Ireland